i'm funnier than he is. i hope.
What else is there to do on a Friday night besides steal Thomas Friedman's identity? Yep. Quizzes.
You are Thomas L. Friedman! You're the foreign
affairs expert. You're liberal on most issues,
except you're a leading voice in the pro-war
movement. You're probably the most popular
columnist at the Times, but probably because
you play both sides of the Iraq issue and
relish your devotion to what you call
"fanatical moderatism." You sure can
write, but you could work on your sense of
humor.
Which New York Times Op-Ed Columnist Are You?
brought to you by
Quizilla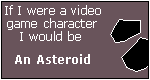 I am an Asteroid.

I am a drifter. I go where life leads, which makes me usually a very calm and content sort of person. That or thoroughly apathetic. Usually I keep on doing whatever I'm doing, and it takes something special to make me change my mind. What Video Game Character Are You?